Hybrid OR Imaging Systems: OVERVIEW
Hybrid Operating Room & Cardiac Catheterization Suite Imaging Systems: Angiography, iMRI, CT, Fluoroscopy. Comparison of Hybrid OR Imaging Systems. Philips, Siemens, GE, Toshiba, IMRIS. Zeego, Artis Zee, FD20, FlexMove, Allura, Discovery IGS, Infinix. Interventional Radiology, Cardiovascular, Cardiothoracic, EP.
Diagnostic Imaging Systems for Hybrid Surgical Suites
The Hybrid Operating Room includes a dizzying assortment of infrastructure, with the imaging equipment serving as the centerpiece.The most common imaging modality to be used in Hybrid ORs is a C-Arm. Expert consensus rates the performance of mobile C-arms in Hybrid ORs as insufficient, because the limited power of the tube impacts image quality, the field of view is smaller for image-intensifier systems than for flat-panel detector systems and the cooling system of mobile C-Arms can lead to overheating after just a few hours, which can be too short for lengthy surgical procedures or for multiple procedures in a row, that would be needed to recover the investment in such a room.
Fixed C-Arms do not have these limitations, but require more space in the room. These systems can be mounted either on the floor, the ceiling, or both if a biplane system is chosen. The latter is the system of choice if pediatric cardiologists, electrophysiologists or neurointerventionalists are major users of the room. It is not recommended to implement a biplane system if not clearly required by these clinical disciplines, as ceiling-mounted components may raise hygenic issues[15]: In fact, some hospitals do not allow operating parts directly above the surgical field, because dust may fall in the wound and cause infection. Since any ceiling-mounted system includes moving parts above the surgical field and impairs the laminar airflow, such systems are not the right option for hospitals enforcing highest hygienic standards.
There are more factors to consider when deciding between ceiling- and floor-mounted systems. Ceiling-mounted systems require substantial ceiling space and, therefore, reduce the options to install surgical lights or booms. Nonetheless, many hospitals choose ceiling-mounted systems because they cover the whole body with more flexibility and – most importantly – without moving the table. The latter is sometimes a difficult and dangerous undertaking during surgery with the many lines and catheters that must also be moved. Moving from a parking to a working position during surgery, however, is easier with a floor-mounted system, because the C-arm just turns in from the side and does not interfere with the anesthesiologist. The ceiling-mounted system, by contrast, during surgery can hardly move to a parking position at the head end without colliding with anesthesia equipment. In an overcrowded environment like the OR, biplane systems add to the complexity and interfere with anesthesia, except for neurosurgery, where anesthesia is not at the head end. Monoplane systems are therefore clearly recommended for rooms mainly used for cardiac surgery.
For a copy of our 'Hybrid OR Imaging System Comparison Matrix', please contact us directly or submit your information via the 'SUBMIT INQUIRY' Tab. We look forward to assisting you!
Imaging Systems for Hybrid Operating Room & Cath Lab Suites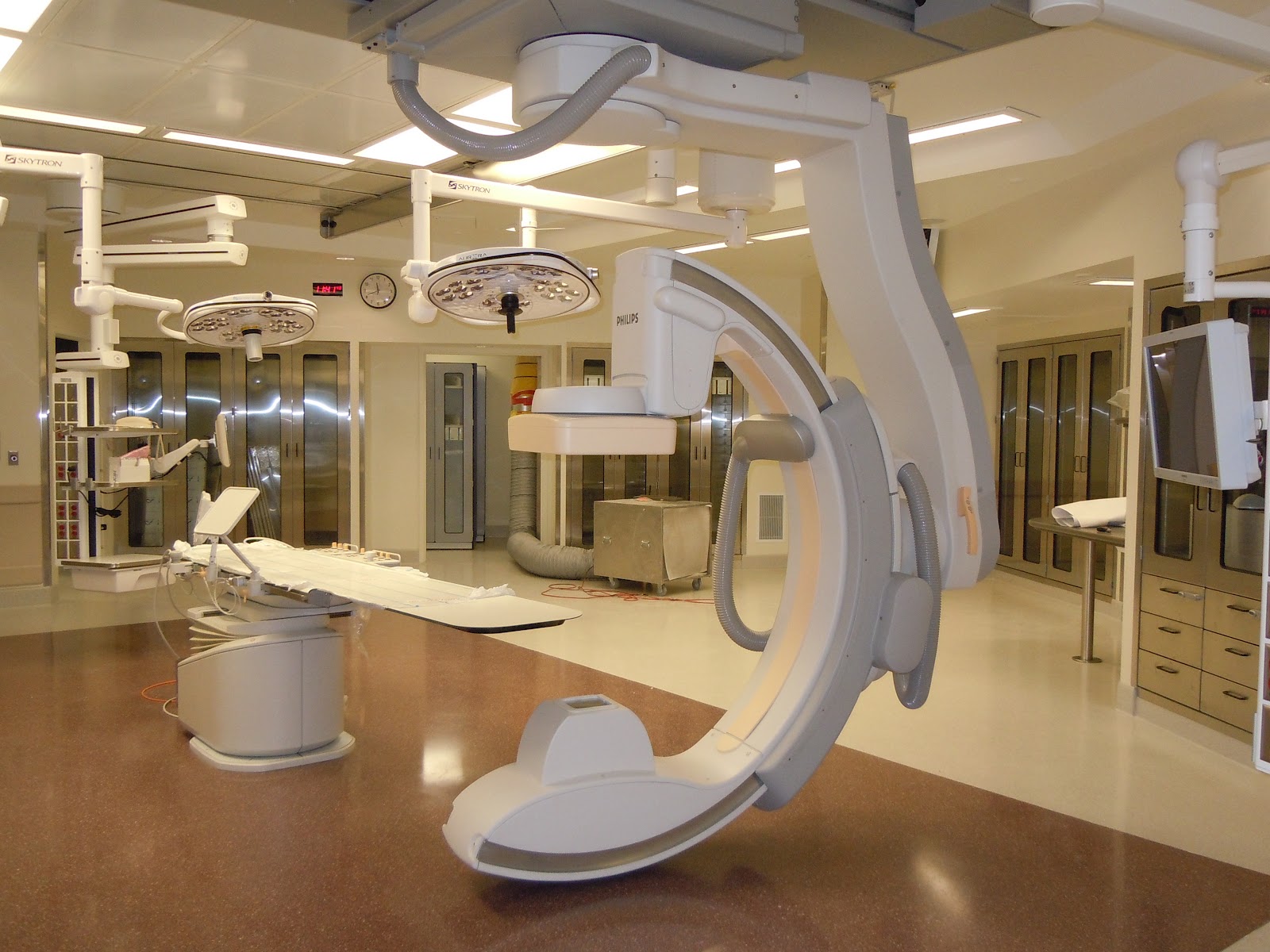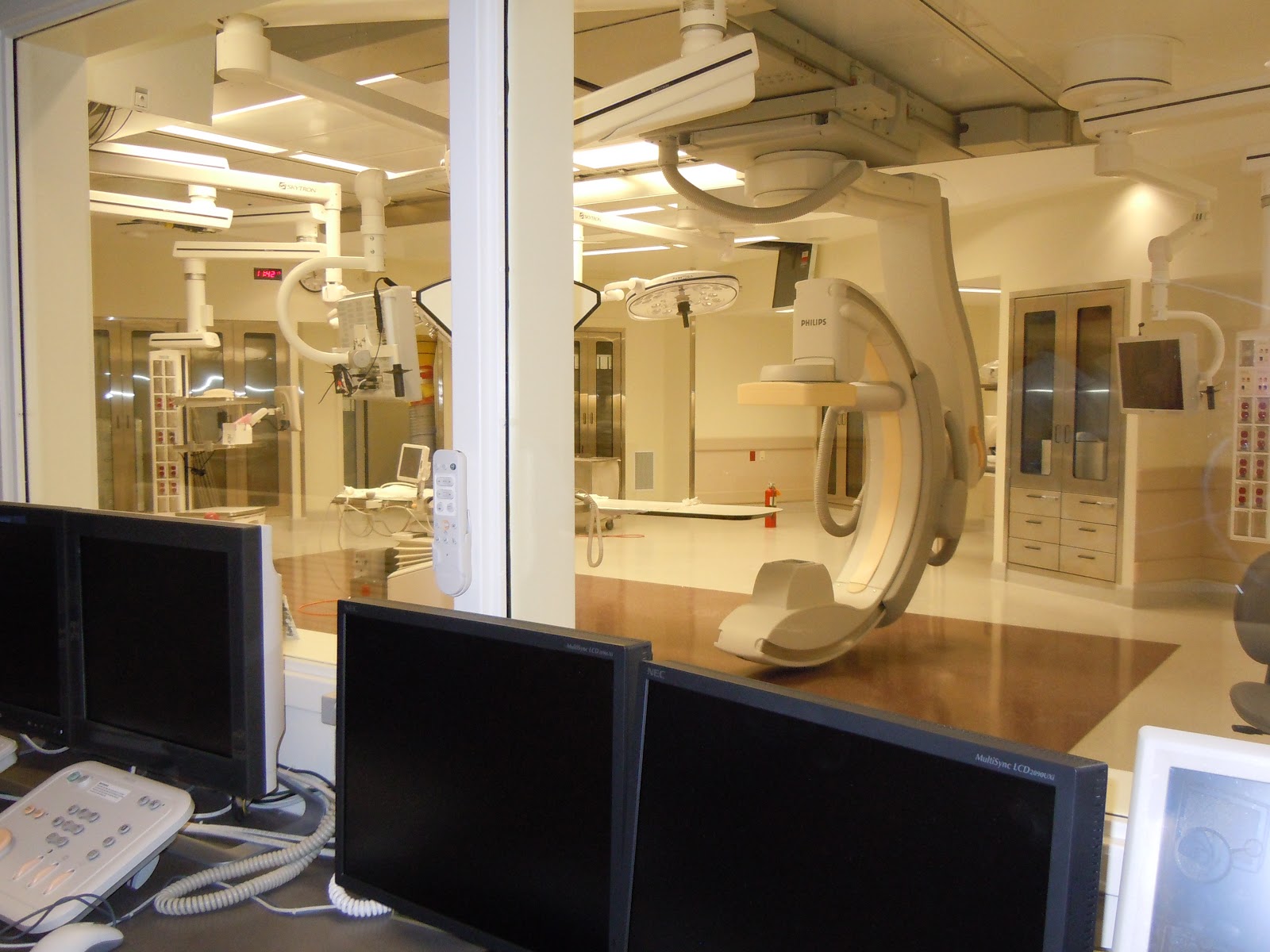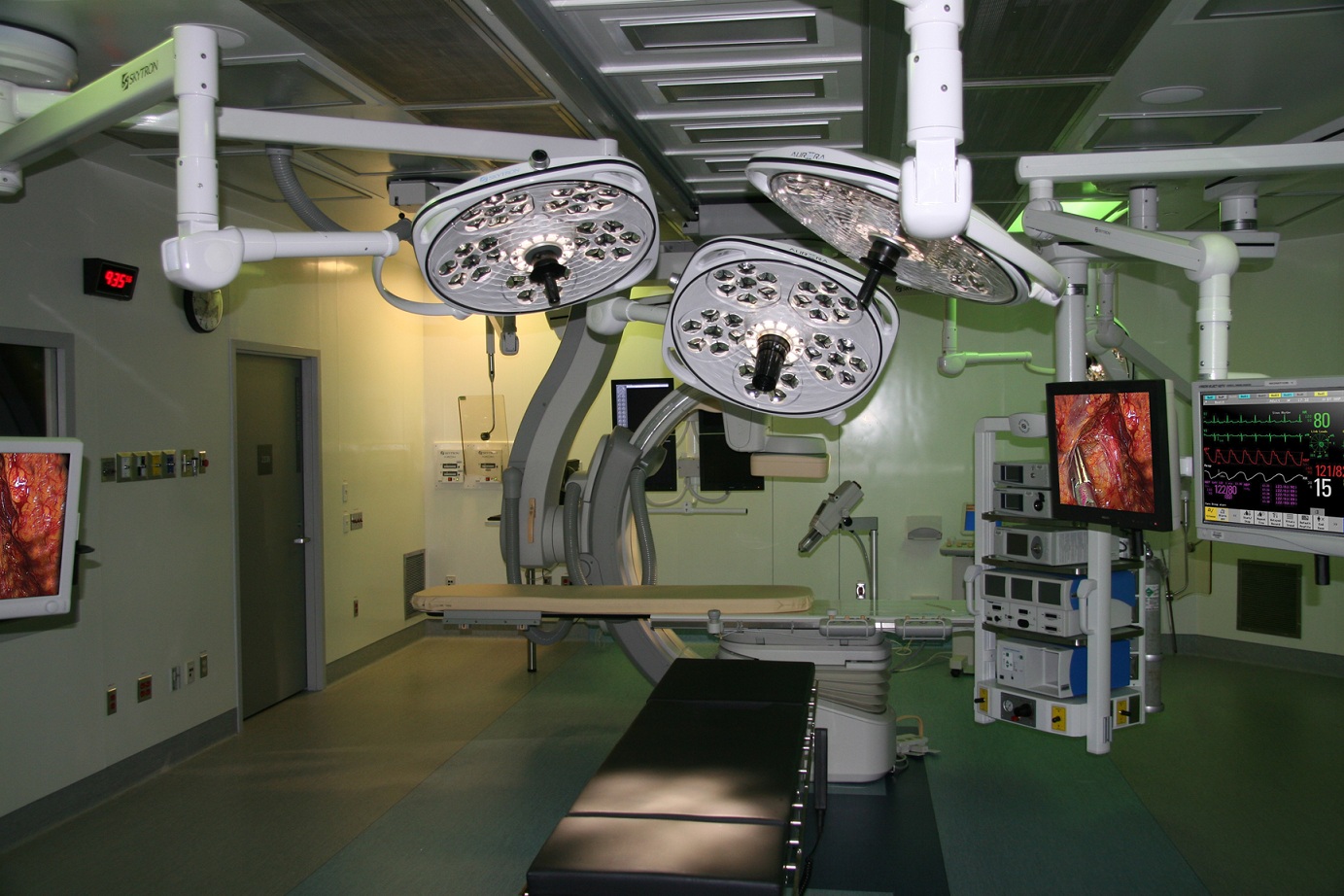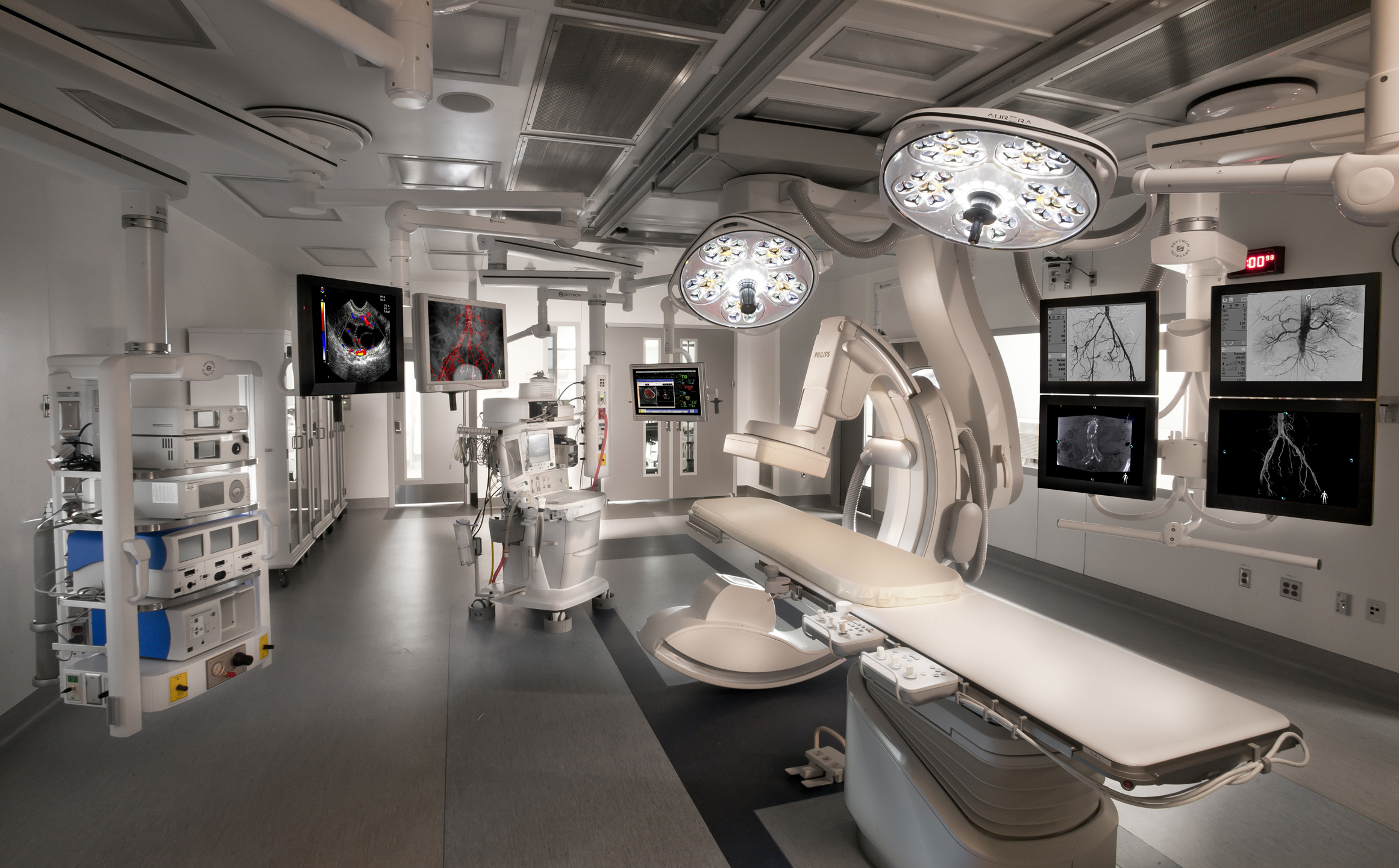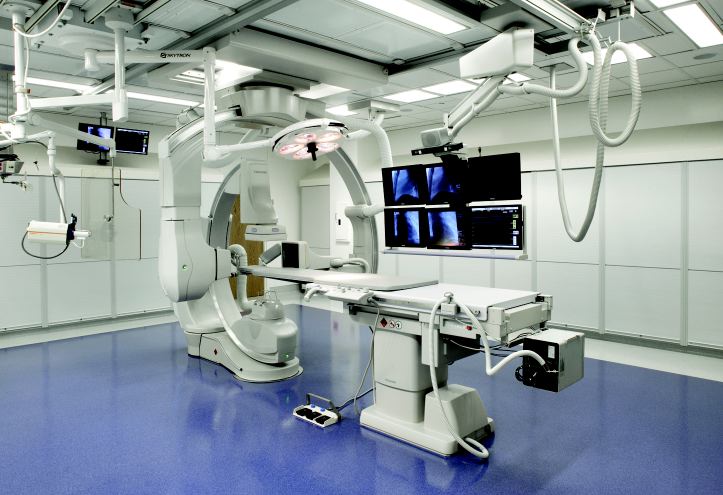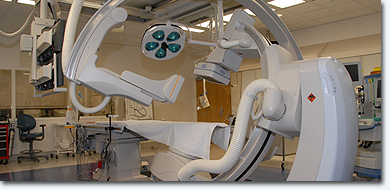 For additional Hybrid OR Room Pictures, please view these additional galleries, separated by Imaging Vendor (Philips, Siemens, GE, Toshiba): 'Hybrid OR Photo Gallery'
Additional 'hybrid' concepts that integrate advanced image guidance modalities into the surgical environment have recently begun to be developed in selective medical centers throughout the world. These include the seamless integration of various forms of magnetic resonance imaging (MRI), positron emission tomography (PET), computed tomography (CT), and ultrasound and radiographic imaging devices as part of the surgical room. Each involves a re-examination of workflow, infection control, various forms of shielding and safety issues.
For a copy of our 'Hybrid OR Imaging System Comparison Matrix', please contact us directly or submit your information via the 'SUBMIT INQUIRY' Tab. We look forward to assisting you!
Hybrid O.R. & Hybrid Cath Lab Imaging Systems:
Philips Allura Xper FD20 &
Philips Allura Xper FD10/10, Biplane
Philips FlexMove
Hybrid O.R. & Hybrid Cath Lab Imaging Systems:
Siemens Artiz Zee, Ceiling Mounted
Siemens Artis Zee, Biplane
Siemens Artiz Zeego, Floor Mounted
Hybrid O.R. & Hybrid Cath Lab Imaging Systems:
Toshiba Infinix-i, Ceiling Mounted
Toshiba Infinix-i, Biplane
Intraoperative MRI & CT Systems for Hybrid O.R.s
Visius Surgical Theatre
Intraoperative MRI
Intraoperative CT
J.M. Keckler Medical Co. - Hybrid Operating Room Consultants
staff@kecklermedical.com - 1.800.523.1010
Keywords: Hybrid Operating Room Skytron, Hybrid OR Philips FlexMove, Hybrid OR Philips FD20, Hybrid Operating Room Siemens, Hybrid OR Siemens Zeego, Hybrid Operating Room GE, Hybrid OR GE Discovery, Hybrid Operating Room Toshiba, Hybrid Operating Room BrainLab, Hybrid Operating Room IMRIS, Hybrid Operating Room Medtronic, Hybrid Operating Room Bi-Plane, Hybrid Cath Lab, Hybrid Cardiac Suite, Hybrid Neuro Lab, Hybrid Interventional Suite, Hybrid Electrophysiology Lab, Hybrid EP Lab, Hybrid Cardiac Cath Lab, Hybrid Imaging System, Hybrid Angiography Suite, Hybrid IR Suite, Hybrid Neurosurgical Suite, Intraoperative MR, Intraoperative CT, Hybrid iMRI, Hybrid Operating Room Toshiba Infinix, Hybrid Operating Room Shimadzu, Hybrid Operating Room Biplane Angriography System, Hybrid Theatre, Hybrid Theater, Hybrid OR Da Vinci Robot, Hybrid Imaging System Compare, Hybrid OR Compare, Hybrid OR BrainLab, Hybrid Operating Room Photos, Hybrid Operating Room Video, Hybrid Operation, Hybrid EP Suite, Hybrid OR Images, Hybrid Cardiac Cathertization Suite, Hybrid Cath Lab